---
15.9.21 – Some children in Durdle Door brought in some fascinating artefacts from WW1 and WW2. Take a look at the gallery below.
17.5.21 – Durdle Door have been learning about rivers. We made these 3d models of rivers from source to mouth from salt dough, and labelled all their different features. We included: tributaries, meanders and ox-bow lakes.
10.5.21 – Another great piece of homework on this term's topic of Wild Waters.
29.3.21- Below are some informative PowerPoint videos created by two members of Durdle Door.
25.3.21 – Some Easter artwork made by Durdle Door class
24.3.21 Red Nose Day
26.2.21 – The children have written some amazing narrative poems about a castle over time. These examples come from children working at home.
23.2.21 – This half term we are learning about Christianity in RE. We explored the different ways that Christians might observe Lent. We made word collage bookmarks to remind ourselves about the meaning of Lent.
3.2.21 – We have been making castles in class today.
Working at home gallery
21.1.21 – Watch a YouTube video made by one of Durdle Door's pupils, all about castle defences.
20.1.21 – This term, we are learning about walls and barricades. Durdle Door did some amazing sketches of Hadrian's Wall using charcoal.
20.1.21 – In science, we have been learning how to construct and fix circuits.
20.1.21 – Some homework on castles.
no images were found
11.12.20 – This afternoon we added some more sparkle to "Christmas Sparkle day" by making some lanterns. We started with strips of card, which we embellished with sequins, sparkles and even some gold leaf. We used a split pin to anchor them all together at the bottom and then added a loop at the top with another split pin. Inside, anchored with a lump of Blue-Tac, we added a battery tea light. All the children were amazed at their end results.
8.12.20 – Durdle Door have been learning about the Anglo-Saxon ship burial at Sutton Hoo. They have written some amazing reports about it. Click on the photographs to read some of their work.
30.11.20 – Last Friday we took part in a sponsored walk for an hour around the school field. The walk was to raise money for new iPads and despite the freezing cold weather great fun was had by all.
24.11.20 – Durdle Door have written a book! We have been studying Anglo-Saxon sagas and all worked together to write some fantastic setting and character descriptions of Beowulf and Grendel. Have a look at the photographs to read some of our amazing writing.
20.11.20 – In English this week, we have been writing instructions. We followed instructions to make Anglo Saxon pottage and then wrote our own recipes. We all enjoyed tasting the pottage. Some of us thought that it was delicious, but others thought that it was disgusting!
17.11.20 – In science last week, Durdle Door made string telephones. We learnt that sound travels as a wave, and can move through solids, liquids and gases. We had lots of fun testing where they worked best.
20.10.20 – We have seen some lovely homework this week, take a look at the gallery below.
19.10.20 – In Durdle Door we have been looking at friction as our science topic. Leon has created his own video at home to show what he had learnt.
21.9.20 – We made 3D pictures to help explain why the Anglo-Saxons moved from their own countries to invade, and eventually settle in England.
10.9.20 – Durdle Door are now back in school. Over the next few weeks keep coming back and we will show you what we have been doing in school. Our Topic for this term is Invaders
We have had lots of photos of work being done by Durdle Door children at home. Well done everyone, keep going.
26.6.20 An interesting PowerPoint on the Roman invasion of Britain
Check out the Lego Romulus and Remus story by Finn below
A fantastic Art project by one of our students
10.3.20 – More homework, this time on Italian food.
3.3.20 – Harry has been cooking up a storm making food for his homework topic on the world's kitchen. This was his menu
Buffalo and sticky barbecue Wings (Mexico and America)
Nachos with cheese dips (Mexico)
Calzone (Italy)
Paella (Spain)
Apple strudel (Germany/Austria)
Frigania (Greece)
Hawaiian Punch.
See if you can match the food with the pictures below. It all looks very tasty!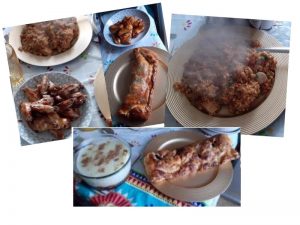 14.2.20 – Another homework presentation, this time on William Shakespeare.
In our RE lesson we have been learning that Christians believe that God owns everything on earth and that humans should look after what he has given us. To help us remember this, we planted some conkers to increase the number of horse chestnut trees which are becoming endangered due to disease.