---
19.10.20 – In Durdle Door we have been looking at friction as our science topic. Leon has created his own video at home to show what he had learnt.
21.9.20 – We made 3D pictures to help explain why the Anglo-Saxons moved from their own countries to invade, and eventually settle in England.
10.9.20 – Durdle Door are now back in school. Over the next few weeks keep coming back and we will show you what we have been doing in school. Our Topic for this term is Invaders
We have had lots of photos of work being done by Durdle Door children at home. Well done everyone, keep going.
26.6.20 An interesting PowerPoint on the Roman invasion of Britain
Check out the Lego Romulus and Remus story by Finn below
A fantastic Art project by one of our students
10.3.20 – More homework, this time on Italian food.
3.3.20 – Harry has been cooking up a storm making food for his homework topic on the world's kitchen. This was his menu
Buffalo and sticky barbecue Wings (Mexico and America)
Nachos with cheese dips (Mexico)
Calzone (Italy)
Paella (Spain)
Apple strudel (Germany/Austria)
Frigania (Greece)
Hawaiian Punch.
See if you can match the food with the pictures below. It all looks very tasty!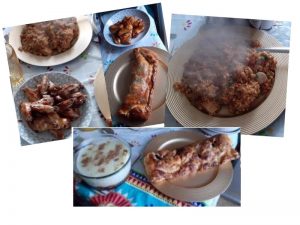 14.2.20 – Another homework presentation, this time on William Shakespeare.
Below is a presentation that a member of our class created for her homework.
In our RE lesson we have been learning that Christians believe that God owns everything on earth and that humans should look after what he has given us. To help us remember this, we planted some conkers to increase the number of horse chestnut trees which are becoming endangered due to disease.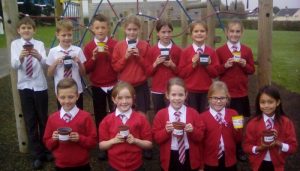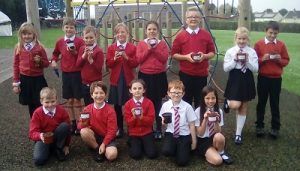 7.10.19 Below are photos of Durdle Door enjoying their new books which we bought with the money the PTFA kindly gave us.
24.9.19 – On Friday afternoon, Durdle Door found out all about DNA for Jeans for Genes day. We discussed what happens when something goes wrong with our genes. We then did an experiment where we extracted DNA from strawberries.
19.9.19 On Monday, Durdle Door made topographical maps of Mexico. We learn all about the shape of the land and how it affects climate.
One of our pupils made a Mexican feast for his family as part of his homework. The photos below show his finished dishes of Guacamole and nachos, Chilli con Carne and Rice, Mexican Chilli bread and an Agua Fresca drink. Amazing!
5.9.19
Durdle Door had lots of fun making guacamole today to start of our new topic on Mexico and the Mayans.
24.6.19 Durdle Door have been using microscopes to make careful observations about the different parts of a flower plant. We also looked at and described different seeds
Below are presentations about global warming made by pupils for their homework. Using skills learnt in their ICT/computing lessons, they have produced lovely work that gets right to the heart of the matter. Well done!
Durdle Door have worked very hard and contributed to the Crime and Punishment exhibition at Beaminster Museum. They wrote recounts of the crimes of local Mosterton horse thief – Blue Jimmy, and created some fantastic artwork to go with it.
Click on this museum link below for more information about the exhibition.
16.2.19
Durdle Door have been discovering all about Anglo Saxons this term. This is a piece of homework done by a year 4 student telling you all you need to know about Anglo Saxon food.
11.10.18
On Wednesday, Durdle Door visited Hooke Court to take part in their World War One experience. We looked at different artifacts, tried marching and drill and got to go into a real trench!