---
10.9.20 – Chesil are now back in school. Over the next few weeks keep coming back and we will show you what we have been doing in school.
Chesil Class children have been doing lots of work at home while keeping safe. Take a look at the photos below to see what they have been up to. If you are a member of Chesil and have been working hard send us a picture so we can see what you have been doing.
12.2.20 – This has been an amazing topic and we wanted to share all the lovely art work the children have produced this term. The children started by making clay penguins of many shapes and sizes. We followed that up with posters for the different continents, where the children worked in pairs researching using books, and the internet. Then last week the focus was on the Northern Lights. The children used chalk and pastels to great effect. Finally they built igloos from marshmallows and managed not the eat the bricks.
Thank you to all that came to exhibition allowing the children to share their hard work with you. It was a great success and I look forward to the next!
27.11.19 – On Monday Chesil and Corfe held the very first pop-up toy museum. Parents kindly donated some of their old toys, in some case over 60 years old, and allowed the children to experience toys from the
past. We had dolls, board games, a jack in the box and even two versions of Tracey Island, which proved very popular!
The children discussed the similarities and differences between them and the toys they have today.
They looked at the materials they were made from and how they worked. It was an absolutely fantastic afternoon. The children enjoyed themselves and Miss Ives and myself would like to say thank you to those donated toys or came along to support the children.
14.11.19 – Can you guess which fairy-tale this is?
16.10.19 – Healthy Dippers!
In year 2 this term the children have been investigating basic needs for survival. Over the last few weeks the children have been focusing on healthy lifestyle. Today the children had to make a healthy dip that they could have in their lunchboxes.
We started with health and safety rules when preparing food and handling knives. They really listened and we had no accidents. The children then followed a recipe; weighing out the ingredients and learning two different chopping techniques for the crudities.
I was really impressed with all the children. They tried it and most said they would have again!
14.10.19 – Today was Victorian Day in Chesil class. All the children came to school in fantastic costumes to experience life in a Victorian classroom. The boys and girls came into school using different entrances and were separated in the classroom. It was very different to normal.
We got rid of pencils for the day, opting to write with chalk on slate boards. The children found this fun but challenging as the chalk kept breaking. The children practised the 3 R's; writing letters, reading and arithmetic where they had to copy and answer calculations. The only thing missing was an abacus.
The British Empire was very important during this time and the children used world maps to locate the main countries that made it up and made their own Union flag.
In the afternoon we played some Victorian playground games such as; hopscotch, kick the can, marbles, follow the leader, tag and jump rope, which was everyone's favourite.
Everyone had a great time and learnt a lot, some children even preferred the teaching methods of the Victorians to now. Thank you to parents for the support with costumes.
Challenge Complete!
16.7.19 – Congratulations to Chesil class who have managed to name all 197 countries of the world in 15 minutes.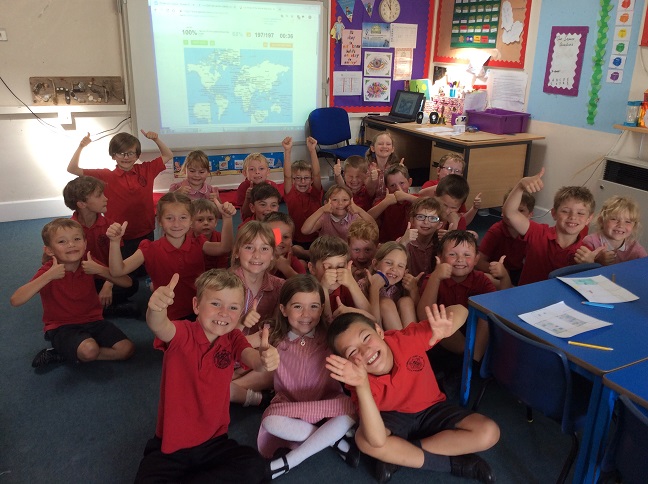 Chesil Go Wild
July 2019 – This term we celebrated all the children's hard work in Chesil this year by going on a trip to Axe Valley Wildlife Park. We had so much fun while we were there! We started the day off by feeding some meerkats. We learned that meerkats always have a look-out, who keeps an eye out for any predators. We watched as they took turns doing this – it was a bit like the changing of the guards at Buckingham Palace! Next we got to meet and even hold some really interesting and unusual creatures, including Archie the Armadillo who we all really loved. We learned about different ways to look after animals. After that we went on a treasure hunt, finding and answering clues about animals around the park. Some of us got caught in a downpour but it didn't dampen our spirits! Next we had lunch in our own special tent. Finally, we finished the day by having a play on the ginormous play area there! We had lots of fun and made lots and lots of happy memories
Great Fire of London
July 2019 – The year 2 children have been learning about the Great Fire of London. In their ICT lesson they have created presentations on their topic using Microsoft PowerPoint. Amongst other skills, they have learnt to search for copyright free images, use spellcheck and resize both text and images. As you can see from the movies below they have learnt quite a lot.