5.12.22 – On Tuesday 29th November, 27 of our Year 3/4/5/6 pupils took part in the first Cross Country race of the season at Beaminster school.
The ground was very boggy in places which added to the challenge of the race. Luckily the sun shone for most of the afternoon.
Our children went off in different stages. First the Year 3/4 girls followed 10 minutes later by the Year 3/4 boys all running 1200m. The Year 5/6 girls followed by the Year 5/6 boys all running 1500m. All children embodied our school and sporting values and cheered each other on.
Theo was the first overall Year 3/4 boy home and was awarded the 1st place medal. Theo, Freddie, Cameron and Charlie were awarded the Year 3/4 cup and medals as overall winners of their age group. Conor, Sammy, Edward and Carter were awarded the B team winners cup. Finally, we also took home the Year 5/6 Girls B team cup. Well done to Issy, Scarlett, Leah and Lyla.
Congratulations to all our runners. We are all extremely proud of you.
30.11.22 –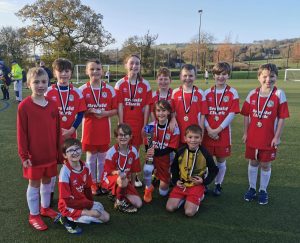 On Thursday 24th November, 12 of our Year 5/6 boys and girls took part in the Kenway Cup Tournament at Beaminster School on the 3G pitch.
Despite horrendous weather conditions, our wonderful team braved the elements and made our school proud. The team played 5 games, drew 4 and won 1. Lots of goals were scored by our children and our team finished the afternoon as runners up to Beaminster St Marys. All our children played superbly upholding our school and sporting values. Congratulations and well done to them all.
15.11.22 – On Wednesday 9th November, 8 of our Year 5/6 children attended the Primary Leadership Training at Beaminster School. There were about 130 children there from different schools from the Portland/Weymouth/Bridport and Beaminster area. The training was to teach leadership values and skills, leading healthy lifestyles, understanding the importance of inclusion, honesty, determination, teamwork and self-belief.
The children attended different workshops including one where they had to decide how to bring their learnt knowledge back into school and how it could be acted upon.
The ambassadors will be constructing a survey for the whole school to see what activities they do each week, a lunch-box survey to encourage healthy eating (including the 5 or more portions of fruit and vegetables a day) and run lunch-time activities once or twice a week for KS1 to develop skills.
The children were given their Bronze Ambassador t-shirts and will be awarded Sports ambassadors badges.
Well done to our 8 children who now join with our 3 from last year to make a strong team.
15.11.22 – On Thursday 20th October, 10 of our Year 3/4 pupils took part in the Futsal Tournament held on the 3G pitch at Beaminster Secondary School. For many of our pupils it was the first competitive game they have played and all of them upheld our sporting and school values.
The squad scored numerous goals and only lost 1 game to the eventual winners of the tournament. They were captained superbly by Lexi who used her team well. Silver medals were awarded, which they wore with great pride. Congratulations to them all.
11.7.22 On Tuesday 28th June, 16 of our Year 3 and 4 athletes took part in the Quad Kids Athletic Event Sir John Colfox School in Bridport. Many schools from the Bridport and Beaminster area took part. The pupils participated in 4 events; Standing Long Jump, Vortex Howler throw, 60m Sprint and 400m run. They then took part in a baton relay while all the scores were being accumulated.
Our A team came 3rd overall and all received bronze medals plus certificates along with our superb B team. Congratulations.
Thank you to all the parents that supported us at this event.
27.6.22 – Last Friday, we enjoyed our annual Sports Day. The whole school took part in sprints, relay, novelty races and throwing events. Well done to all who took part and congratulations to Respect House who came top in the points.
| | |
| --- | --- |
| Points | House |
| 290 | Respect |
| 278 | Courage |
| 251 | Kindness |
| 237 | Equality |
Points Table
22.6.22 –
On Tuesday 21st June, Year 5, staff and helpers set off at 8-30am for the WOEC centre in Weymouth.
After a safety briefing, the children got into wet-suits, helmets and buoyancy vests before being transported to the sailing area. The children were in fun boats in groups of 2 or 3 and towed out around the pier by the rib boat. They were shown how to put up the sail and steer. They all had a fantastic time sailing around in the calm waters of Weymouth. At the end of the session they were all allowed to jump into the sea if they wished which involved much laughter and splashing.
After returning to the centre, the children showered and changed then ate their lunches. They then took part in centre based activities including: wall climbing around the hall, then rock climbing outside in harnesses where all the children learnt about the ropes and safety aspects and how to operate the ropes. Back inside, the children tried out the tunnels having to follow animal trails with their head torches on and again supporting and encouraging their friends. After this, we went back into the main hall and tried the high steep walls in harnesses. Lots of our wonderful children climbed the walls and learnt how to abseil down safely.
The coach journey back was much quieter with lots of them sleeping after such a busy, fun-filled day.
I am so delighted that so many of them faced things they had never done before and conquered so many fears.
A brilliant day for us all.
3.5.22- These photographs were taken at the Dorset Indoor Athletics County Finals, held at the Purbeck school in Wareham, on Friday 29th April. We came joint 5th place and our Athletes were superb. We were the only primary school representing the South West of Dorset.
On Saturday 12th March 15 of our Year 5/6 children took part in the Tag Rugby festival at the Bridport Rugby Club. All children played superbly winning 7 out of the 8 matches. Our last match was against St Catherine's, who had also won all of their matches throughout the morning. Unfortunately, they beat us meaning that we took second place overall. Our children were presented with medals from the Chair of the Rugby Club. All of them displayed the sporting values of teamwork, passion, honesty, respect and self-belief; they were a credit to our school and themselves. We would like to thank all the parents that came and supported at this event and a special thank you to Malcolm and Tammy Dommett for all their hard work in training our superb team. We are so lucky to have such supportive parents and enthusiastic children.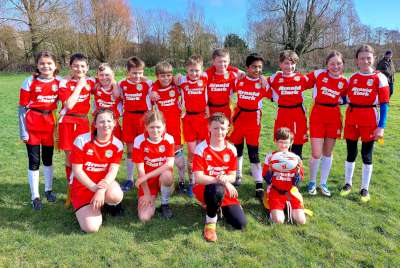 The successful Tag Rugby team
31.1.22 – On the 25th January 24 of our wonderful children took part in the Cross-Country relays at Sir John Colfox. All children ran superbly and supported each other as always. Our year 3/4 A team came in 2nd narrowly missing out on 1st position. Our B team came in 6th followed by our C team that came 8th. Year 5/6 A & B teams were highly successful in gaining 1st and 2nd positions closely followed by our C team coming in 4th. We were presented with 4 cups, 16 medals and we share the overall winners shield with St Catherine's. A fabulous accolade for our pupils and school.
8.11.21 – Year 5 and 6 children from Parrett and Axe took part in a cross country event at Leweston School in Sherborne last Thursday. Below are some photos
no images were found
29.9.21 – We are pleased to announce that we won the Quick Sticks tournament at Sir John Colfox school scoring 10 goals in total, winning 5 of our games and drawing 2.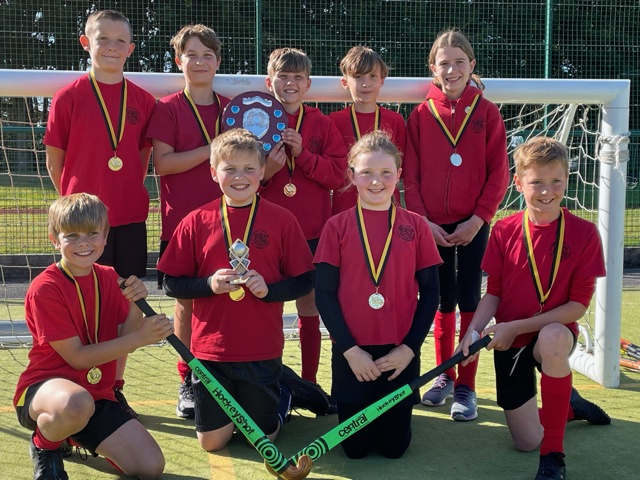 6.7.21 – Congratulations to Equality for winning the sports day trophy last Friday. It was a very close competition that went down to the last race.
no images were found
Sports Update
1.7.21 – On Tuesday 29th June 24 of our KS2 children represented our school at the Cross-Country
Relay Championships. All children ran exceedingly well and displayed great sportsmanship.
We are delighted to let you know that in the Y5/6 teams we came 1st, 3rd and 4th overall and
3 achieved a 2nd place for the Y3/4 A team. We were presented with 2 cups and a shield for
the A team winners and B team winners and the shield for winners overall for the years 5/6
category. Many of our Y3/4 children have never attended a Cross Country event before and
I know they are looking forward to representing our school in the new school year.
no images were found