11.7.22 On Tuesday 28th June, 16 of our Year 3 and 4 athletes took part in the Quad Kids Athletic Event Sir John Colfox School in Bridport. Many schools from the Bridport and Beaminster area took part. The pupils participated in 4 events; Standing Long Jump, Vortex Howler throw, 60m Sprint and 400m run. They then took part in a baton relay while all the scores were being accumulated.
Our A team came 3rd overall and all received bronze medals plus certificates along with our superb B team. Congratulations.
Thank you to all the parents that supported us at this event.
27.6.22 – Last Friday, we enjoyed our annual Sports Day. The whole school took part in sprints, relay, novelty races and throwing events. Well done to all who took part and congratulations to Respect House who came top in the points.
22.6.22 –
On Tuesday 21st June, Year 5, staff and helpers set off at 8-30am for the WOEC centre in Weymouth.
After a safety briefing, the children got into wet-suits, helmets and buoyancy vests before being transported to the sailing area. The children were in fun boats in groups of 2 or 3 and towed out around the pier by the rib boat. They were shown how to put up the sail and steer. They all had a fantastic time sailing around in the calm waters of Weymouth. At the end of the session they were all allowed to jump into the sea if they wished which involved much laughter and splashing.
After returning to the centre, the children showered and changed then ate their lunches. They then took part in centre based activities including: wall climbing around the hall, then rock climbing outside in harnesses where all the children learnt about the ropes and safety aspects and how to operate the ropes. Back inside, the children tried out the tunnels having to follow animal trails with their head torches on and again supporting and encouraging their friends. After this, we went back into the main hall and tried the high steep walls in harnesses. Lots of our wonderful children climbed the walls and learnt how to abseil down safely.
The coach journey back was much quieter with lots of them sleeping after such a busy, fun-filled day.
I am so delighted that so many of them faced things they had never done before and conquered so many fears.
A brilliant day for us all.
3.5.22- These photographs were taken at the Dorset Indoor Athletics County Finals, held at the Purbeck school in Wareham, on Friday 29th April. We came joint 5th place and our Athletes were superb. We were the only primary school representing the South West of Dorset.
On Saturday 12th March 15 of our Year 5/6 children took part in the Tag Rugby festival at the Bridport Rugby Club. All children played superbly winning 7 out of the 8 matches. Our last match was against St Catherine's, who had also won all of their matches throughout the morning. Unfortunately, they beat us meaning that we took second place overall. Our children were presented with medals from the Chair of the Rugby Club. All of them displayed the sporting values of teamwork, passion, honesty, respect and self-belief; they were a credit to our school and themselves. We would like to thank all the parents that came and supported at this event and a special thank you to Malcolm and Tammy Dommett for all their hard work in training our superb team. We are so lucky to have such supportive parents and enthusiastic children.
31.1.22 – On the 25th January 24 of our wonderful children took part in the Cross-Country relays at Sir John Colfox. All children ran superbly and supported each other as always. Our year 3/4 A team came in 2nd narrowly missing out on 1st position. Our B team came in 6th followed by our C team that came 8th. Year 5/6 A & B teams were highly successful in gaining 1st and 2nd positions closely followed by our C team coming in 4th. We were presented with 4 cups, 16 medals and we share the overall winners shield with St Catherine's. A fabulous accolade for our pupils and school.
8.11.21 – Year 5 and 6 children from Parrett and Axe took part in a cross country event at Leweston School in Sherborne last Thursday. Below are some photos
6.7.21 – Congratulations to Equality for winning the sports day trophy last Friday. It was a very close competition that went down to the last race.
Sports Update
1.7.21 – On Tuesday 29th June 24 of our KS2 children represented our school at the Cross-Country
Relay Championships. All children ran exceedingly well and displayed great sportsmanship.
We are delighted to let you know that in the Y5/6 teams we came 1st, 3rd and 4th overall and
3 achieved a 2nd place for the Y3/4 A team. We were presented with 2 cups and a shield for
the A team winners and B team winners and the shield for winners overall for the years 5/6
category. Many of our Y3/4 children have never attended a Cross Country event before and
I know they are looking forward to representing our school in the new school year.
23.6.21 – A big congratulations go to our Y3/4 Futsal Team who won the Year3/4 Futsal tournament at Sir John Colfox School yesterday.
We are pleased to let you know that the following children will receive certificates and medals following our superb performance in the local Quadkids competition held at the end of last year.
Individual winners were:
Anna – 1st Standing Long Jump,
Arienne – 1st in Over-Arm Howler Throw,
Tom – 2nd Over-Arm Howler Throw,
Dylan – 3rd Standing Long Jump,
Theo – 3rd Over-Arm Howler Throw
Anna – 3rd 20m Sprint Event.
Team winners were:
Anna
Dylan
Ellis, who came second in the Team Standing Long Jump
Arienne
Meagan
Brooke, who came 2nd in the Over-Arm Howler Throw event.
We are also delighted to report that Parrett and Axe came 2nd overall in the Standing Long Jump and 2nd overall in the Over-Arm Howler Throw out of all the schools that took part from the Beaminster and Bridport area.
Thank you and congratulations to 41 of our wonderful children who took part in the 1km Virtual Cross-Country Race. We recorded some superb times and won many individual and team awards.
Individual Awards went to:
Arienne – 2nd fastest girl in Y1/2,
Theo – 2nd fastest boy in Y1/2,
Harry P – 2nd fastest boy in Y3/4,
Florence 3rd fastest girl in Y3/4.
Team awards for the Y1/2 Gold Winning Team went to:
Holly
Arienne
Charlie
Theo
Team awards for the Y3/4 Gold Winning Team went to:
Team awards for the Y5/6 Silver Winning Team went to:
Team awards for the Y3/4 Bronze Winning B Team went to:
Team awards for the Y5/6 Bronze Winning B Team went to:
This shows that even through lock-down our children are achieving great things in PE.
I would also like to thank Mr Smith for taking part in the Virtual Cross Country event running around our playground. Below are some photographs of our children and Mr Smith taking part.
Nov 2020 –
We are pleased to announce that our school is taking part in a Quadkids competition. Schools from Beaminster and Bridport will be taking part within their own school bubble. Mrs Harris has selected (along with class teachers) two children from each year group to take part. It will
consist of four events: Standing High Jump, Standing Long Jump, Overarm Throw and 20m Sprint. Times will be taken along with distances jumped and thrown. The West Dorset Schools Partnership Sports Co-ordinator will be in school to oversee the event and each group will remain in their own bubble.
Bikeability will take place this year for 18 of our Y6 students. The first session will take place on Tuesday 10th November and continue for another 3 sessions. We are really pleased that so many children are taking part.
30.6.20 – Although no physical events have been happening in school, Dorset School Games Organisers have been working tirelessly to create a series of brand new virtual competitions. These have been available for all students to take part in to remain active, continue competing and keep smiling!
Over the past few weeks there have been different virtual competitions that our children have taken part in. The competitions have been designed for those pupils who are still in school as well as those who are at home. All competitions will be running until July 10th, after which there will be a celebration recognising all that took part.
Here are some photos of our children taking part in the gymnastics and cricket competitions.
Cross Country
Below are photos from our latest cross country event on 12 February at Beaminster School
20.1.20 – On Wednesday 15th January, 38 KS2 children attended the first cross country event of the season.
We were delighted that so many of our pupils took part and all the cups, shields and medals they won, both individually and as a team.
Congratulation go to all those who took part, especially to those who have never run before and thank you to Andy David for all his help running training sessions.
We look forward to the next event at Beaminster School on Tuesday 11th February.
Platinum Award awarded again.
20-1.20 We were presented last week with a magnificent trophy for all our children's' sporting achievements both in and out of school.
Here at Parrett and Axe we offer a wide range of sporting activities to enable each child to participate in and enjoy and we are one of only 2 schools in Dorset that have been awarded the Platinum status again. We are so proud of our school and our children and it is testimony to the fact that everybody can be good at something.
Lastly, thank you to all the parents who support us in so many ways enabling us to take part in so many inter and intra school events
This year's Bronze Sports Ambassadors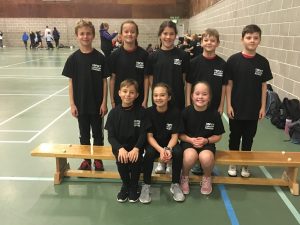 Parrett and Axe is proud to be part of the Dorset Leadership Academy Ambassador award scheme. The scheme is aims to produce young sports leaders who will be able to support in the following areas.
To increase participation and healthy lifestyles in their school
To promote the positive values of sport in and through sport
To be an ambassador and role model advocating PE and school sport
To be the young people's voice on PE and school sport in their school
On Tuesday 16th July sixteen of our Y3/4 athletes went to our first ever Quad Kids event at Sir John Colfox School. We are very pleased to announce that we came in third place achieving an overall score of 2511 points. Charlie threw the Vortex Howler a fantastic 30.1m closely followed by Seb on 29.7m. We had some fantastic sprint times over 50m with Finlay running it in 8.3 seconds. Congratulations to all our superb athletes.
On 10th July all of our Y1/2 enjoyed a morning of multiskills at Beaminster Comprehensive School. They had an enjoyable morning of sport.
The Y3/4 Colmers Cup took place yesterday. Eight of our children represented our school and we are pleased to announce that they came joint First with Broadwindsor and Charmouth.
no images were found
Year 5 went to Weymouth Outdoor Education Centre on Tuesday 18 June. All the children took part in the sailing activity, learning how to steer and manoeuvre the boat using the sails. They also learned lots of nautical terms. Later on they went on a climbing wall, learning how to get foot and hand holds to scale the various walls using a body harness to make sure they were safe. The last activity of the day was to negotiate tunnels, following tracks using a head torch and teamwork to get them round. All the children had a fantastic day and learnt lots of new skills.
no images were found
Sport Update March 2019
Congratulations to all our children who took part in the many sports events this month. Y3 took part in the Dance Festival at Burton Freshwater, dancing to Surfin' USA by The Beach Boys. After a busy morning of dance under the theme of environment with other schools they enjoyed an afternoon of bowling.
32 children took part in the Cross Country Relays at Sir John Colfox School. All our children ran superbly bringing home awards for both Y4/5/6 teams and Y3 teams. Congratulations to them all and grateful thanks to all our parents who supported and transported our children.
Saturday 9th March saw 12 of our children taking part in the Tag Rugby Festival at Bridport Leisure Centre. They only lost one game, drew one and won every other match. Our children were awarded medals for 2nd place. Well done and a special thanks to Richard Evans and Ben Bailey for all their hard work training our children.
no images were found
On Tuesday 26th March, 12 Y3 children attended the Cricket Festival at Sir John Colfox School. They learnt lots of new skills in the glorious sunshine and learnt to play Table Cricket in the Sports Hall. A thank you again to our parents who supported our children at the event.