Forest School Ethos
Forest School is an inspirational process that offers all learners regular opportunities to achieve and develop confidence and self esteem through hands on learning experiences in woodland or natural environment with trees. Through careful observations of the children the tasks and activities will be set with each individual in mind in order to progress them according to their own needs and interests. The children will be provided with opportunities to explore, find their own limitations, make sensible choices in relation to risk, in addition to developing practical skills such as tying knots, using tools and construction. Activities may be challenging but will be achievable which in turn raises their confidence and self-esteem.
Some Activities Your Child May Participate in During Forest School Sessions
Whittling a stick and using tools such as potato peelers and knives to create their own tools/objects
A variety of outdoor games and stories
Free play which may include the mud kitchen making mud pies, bug hunting, making bug hotels and other craft activities
Campfire safety and cooking snacks on the campfire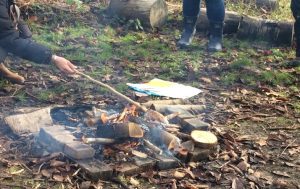 Each Child will gain new experiences during their own unique journey through out the 6 sessions. They will have the opportunity to keep a diary of their own journey and will be able to reflect on each session as we go along.
I am looking forward to sharing my Forest School Journey with your children and teaching them new skills along the way. Let's hope they enjoy it as much as I did.